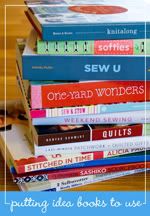 Because I didn't get around to posting the details of the projects that I made for the challenge earlier this week, here they are...
I focused on using the Weekend Sewing Book and made the Weekend Away Bag and the Everything Tote. (I'm just going to do you all a little favor and link to the errata for the book right away).

This is my first attempt at a lined zippered bag. I really like the fabric and zipper color that I used, but I was just not a big fan of the design of the pattern. All of the other projects online made with this pattern turned out great, so it's probably just a user error on my part (sewing from patterns has not been so good for me lately with everything else I have on my plate).
After being defeated by this pattern, I sought out a different zippered bag tutorial to follow and came across this genius tutorial at Flossie Teacakes.
I managed to mess up this bag by not trimming the corners around the zipper. The corners aren't square on the final project and I didn't want to undo the bag and start over. (It was at this point that I swore off all sewing for good and took a nice long break from my machine!). At least the fabric is fun, right?
So, after switching to knitting for a while to find comfort in a stress free and stress relieving hobby (for me at least), I finally made my way back to my sewing machine to make the Weekend Away Bag for the giveaway. The most glaring error on this pattern was that you need 1 yard each for the outside and lining (not 1/2 yard as the book states). Luckily, I had plenty of extra fabric on hand and I avoided a tragedy!
The instructions for this pattern were fairly thorough, but I relied on this tutorial for a
bias tape tote
to attach the handles and finish off the bag. Both bags are very similar, but the Everything Tote is just a million times bigger.
Basically, the Weekend Sewing book is total eye candy, especially because it uses so many of Heather Ross' fabrics in the projects, but the directions for the projects could stand to be a bit more clear and accurate.