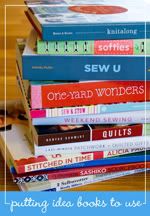 It's been a month since I posted about the "putting idea books to use" challenge. Lots of you have joined in and posted some beautiful pictures of your projects to the flickr group. Thanks so much for participating with me! The group on flickr will continue to be open because there are lots more projects and lots more project books out there waiting to be used.
I'll be posting the projects that I made with my idea books later on this week, but in the meantime, go ahead an link up your projects in the widget below. Make sure that your flickr link or blog link includes the name of the book and project that you used.
I'll select a winner at random to win the above tote bag, made from Weekend Sewing, and I'll also include some yarn or fabric and other goodies based on the winner's crafting interests. I'll leave the drawing open until Friday at 3:00PM EST so that everyone gets a chance to enter (and finish up those last minute projects).