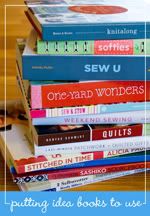 Thanks to everyone who entered the drawing this week! Here are the projects that you all put together. I love seeing them here and knowing that we all are getting some value out of the books we've been collecting!
Because lots of you expressed disappointment in not getting projects complete in time, I'm thinking about making this an ongoing thing. One month didn't seem like enough time last month, so let's say that the next challenge "check in" will be on April 21. 
And, without further ado. the winner is Sam from sunnysidey!
Sam, please email me your address and I'll mail the Everything Tote and some other goodies out to you tomorrow. Thank you all for entering!