The winner of the Vintage Sheet Fat Quarter Giveaway is:

That's Angela of My Three Sons
Please email me your mailing address and I'll mail your package out on Saturday!
Thanks to everyone that entered!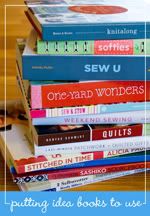 And, a reminder to you all that Monday is the last (official) day of the Putting Idea Books to Use Challenge. On Monday I'll have a post for you to link up the projects you've made from your idea books and I'll select another winner for a handmade prize! Check out this post for more information.
I've got a couple of projects from idea books that I'll be posting this weekend and I hope to continue using my idea book collection throughout the year.