I mentioned an idea that I had for an idea book challenge last fall and lots of you seemed very responsive.
My craft room is filled with lots of beautiful idea books that I never use. Instead of collecting idea books that collect dust on my shelf, I would to make projects from the books I own. I'd much rather have useful projects for around my house than a stack of books that gets neglected.
So, here's the plan...
I started a flickr group for you to share your projects from unused and neglected idea books (which, unfortunately, qualifies as most of my idea book stash). If you complete a project based on something from one of your idea books, join the group and upload a picture of your completed project to the group. This includes any type of craft - knitting, sewing, quilting, crochet, papercrafting, etc.
On February 15, I will have a post here on the blog where you can link up any projects that you have made since the challenge started (if you don't have a blog, then link to your flickr photo of the project). I will select one recipient at random to win a prize handcrafted by me.
If you're game for the challenge, post here to join in. If you know which project you'd like to tackle, be sure and share that, too. I know that one of my first projects will be making is the Everything Bag from Weekend Sewing (see fingerthumb's inspiration here)
And, if you'd like to add a button to your blog, here's the code: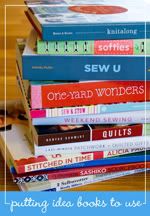 Thanks for joining along with me as I tackle my book stash!