Jon and I celebrated our 2nd wedding anniversary this weekend with a trip to a bed and breakfast in Guelph, Ontario.
The B&B was such in a beautiful old brick house in downtown Guelph. The breakfasts were delicious and we enjoyed relaxing in our red room. Our host at the B&B gave us lots of great suggestions for restaurants and touristy things to do, so we were able to take in some local culture and expand our waistlines with delicious food.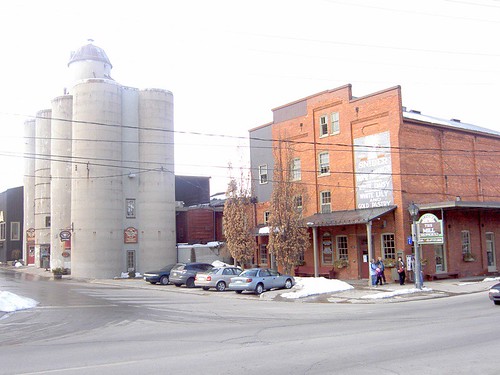 On Saturday afternoon we drove to St. Jacobs, ON, a Mennonite town, and visited the farmers' market and some of the cute little art and antique stores in the downtown area. As we were leaving, we saw our first horse and buggy (!)
Then, on Sunday afternoon, we took a short driving tour of Guelph (it was cold!), and stopped off at the beautiful Catholic church perched on the hill overlooking the city.
After, we headed to Elora, ON, which is a quaint little town known for its Gorge.
We window shopped and then ended up eating at the Old Mill Inn, an inn and hotel situated right on the Gorge. We sat on the outdoor covered/windowed balcony and enjoyed our lunch while taking in the amazing view.